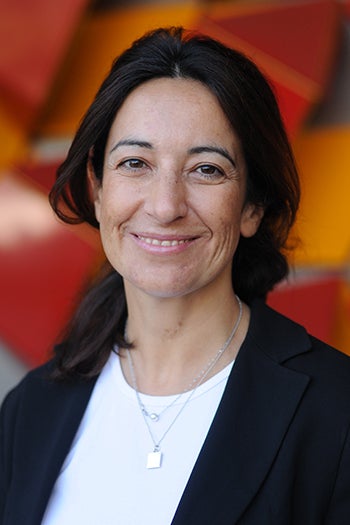 Karine Le Roch
Director, Center for Infectious Disease and Vector Research
Professor of Molecular, Cell and Systems Biology
Phone: (951) 827-5422
Email: karine.leroch@ucr.edu
Message from the Director
New Opportunities for Insect Control
Infectious diseases in general and diseases transmitted by insect vectors in particular cause a tremendous health and economic burden upon even developed societies. In developing societies the effects are even more severe. Infectious diseases (e.g. HIV, tuberculosis, influenza) and human diseases transmitted by mosquitoes (e.g. malaria, dengue fever, yellow fever, West Nile virus or more recently Zika virus) and biting flies (lyme disease, leishmaniasis, sleeping sickness, river blindness) affect hundreds of millions of people every day resulting in mortality and morbidity rates that are significant factors preventing many developing countries from realizing their full potential in the global community. Diseases of agriculture transmitted by insects that feed on plants continue to present challenges of effective economic and environmental control in all countries. Our technologies are constantly challenged by the ability of infectious agents and barriers we present to them leading to a necessity to both improve and refine existing approaches to pest insects to overcome resistance to any treatments and insect control measures and to develop new ones.
The rapid growth in modern technologies provides new opportunities to control these diseases. Genomics, functional genomics, bioformatics and proteomics combined with affordable and inexpensive sequencing technology as well as novel genetic engineering tools provide researchers with not only the completed genome sequences of many infectious pathogens and their hosts but will also soon provide novel strategies against these devastating diseases.
These new opportunities and approaches, when judiciously combined with existing strategies and expertise in disease and insect control in an exciting position. The Center for Infectious Disease and Vector Research seeks to develop and implement these approaches through cross-disciplinary research as well as undergraduate and graduate student training in these areas. The UC Riverside campus has a strong and long record in developing innovative approaches to disease and insect control and so provides an ideal and unique environment in which to combine existing and new technologies for this important purpose.